INTRAINING Presented by Sun Run Stores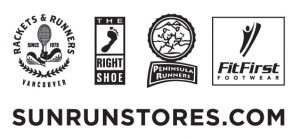 Training Starts week of January 12th 2019!
Whether you're a beginner or experienced runner or walker, the Vancouver Sun Run InTraining Program will help you reach your fitness & health goals in a safe and supportive environment! The 13-week program, designed by SportMedBC's RunWalk Coach, Olympian Lynn Kanuka, will gradually develop your strength and stamina so that you can train injury-free for the 2019 Vancouver Sun Run. Join the InTraining community of walkers & runners across the province, and receive: 13 guided sessions with trained leaders, your Vancouver Sun Run race entry, a logbook, exclusive gear, nutrition tips, and more!
Additional InTraining Options
Prefer to follow the InTraining program on your own? Can't find a clinic location or time that works for your schedule? The Online InTraining Program gives you the flexibility of individual training, while still providing the added benefits of joining a community clinic!  For more information, visit the Online InTraining page here.
Are you looking for a way to promote health & fitness within your organization? Or perhaps your team would like to improve your overall race time from last year? With SportMedBC's Corporate Team Division InTraining, your colleagues can train together for the 2019 Vancouver Sun Run 10K! For more information on how to incorporate InTraining into your organization's wellness initiatives, contact SportMedBC's RunWalk Manager, Stefanie Bissett (RunWalk.Manager@Sportmedbc.com)
Registration for most locations opens November 1st, 2018 and can be done online, over the phone, or in-person directly at the host centre. Click on the clinic location below for the registration link and centre contact information.
InTraining Program Locations
BURNABY
Bonsor Recreation Complex
https://webreg.city.burnaby.bc.ca/webreg/Activities/ActivitiesDetails.asp?aid=776
Cameron Recreation Centre 
https://webreg.city.burnaby.bc.ca/webreg/Activities/ActivitiesDetails.asp?aid=776
Edmonds Community Centre
https://webreg.city.burnaby.bc.ca/webreg/Activities/ActivitiesDetails.asp?aid=776
Fit First Footwear
https://register.vancouversunrun.com/#!/events/fit-first-footwear
NORTH SHORE
Allan McGavin Sports Medicine Centre – North Van
https://register.vancouversunrun.com/management/tools/#!/dashboard/36/event/home
Bowen Island Community Recreation
https://ca.apm.activecommunities.com/bowencommunityrec/
Brennan Park Recreation Centre 
https://squamishlive.ca/squamishlive/Activities/ActivitiesAdvSearch.asp
Karen Magnussen Recreation Centre 
https://econnect.northvanrec.com/ereg/Activities/ActivitiesCourseDetails.asp?aid=1097&cid=430005
North Shore Sports Medicine
https://register.vancouversunrun.com/#!/events/sun-run-intraining-north-short-sports-medicine
Parkgate Community Centre
https://econnect.northvanrec.com/ereg/Activities/ActivitiesCourseDetails.asp?aid=1097&cid=441903
PaceSetter Athletic 
https://register.vancouversunrun.com/#!/events/pacesetter-athletic
West Vancouver Community Centre 
https://ca.apm.activecommunities.com/westvanrec/Home
Outside Lower Mainland
Kamloops Community YMCA
http://coolrunningkamloops.com/
RICHMOND & DELTA
North Delta Recreation Centre
https://deltareg.ca/Activities/ActivitiesAdvSearch.asp
Richmond Olympic Oval
https://richmondoval.ca/fitness-wellness/programs/sunrun/
Steveston Community Centre
https://classweb.richmond.ca/Activities/ActivitiesAdvSearch.asp
West Richmond Community Centre
https://classweb.richmond.ca/Activities/ActivitiesAdvSearch.asp
SURREY
Chuck Bailey Recreation Centre
https://webreg.surrey.ca/webreg/Activities/ActivitiesAdvSearch.asp
Cloverdale Recreation Centre
https://webreg.surrey.ca/webreg/Activities/ActivitiesAdvSearch.asp
Fleetwood Community Centre
https://webreg.surrey.ca/webreg/Activities/ActivitiesAdvSearch.asp
Fraser Heights Recreation Centre
https://webreg.surrey.ca/webreg/Activities/ActivitiesAdvSearch.asp
South Surrey Recreation Centre
https://webreg.surrey.ca/webreg/Activities/ActivitiesAdvSearch.asp
TRI-CITIES
Smiling Creek Activity Centre, Coquitlam
https://signmeup.coquitlam.ca/signmeup/start/start.asp
Poirier Sports and Leisure Complex, Coquitlam
https://signmeup.coquitlam.ca/signmeup/Start/Start.asp
Port Moody Recreation Complex
https://payments.portmoody.ca/internetregistration/Activities/ActivitiesAdvSearch.asp
Queen's Park Arena, New Westminster
https://www.newwestcity.ca/parks-and-recreation/recreation/active-living-guide-and-brochures
Queensborough Community Centre, New Westminster
https://www.newwestcity.ca/parks-and-recreation/recreation/active-living-guide-and-brochures
VANCOUVER
Allan McGavin Sports MedicineCentre
https://register.vancouversunrun.com/#!/events/allan-mcgavin-sports-medicine-centre
Brittania Community Centre
https://ca.apm.activecommunities.com/vancouver/Activity_Search
Coal Harbour Community Centre
https://ca.apm.activecommunities.com/vancouver/Activity_Search
Creekside Community Centre
https://ca.apm.activecommunities.com/vancouver/Activity_Search
Dunbar Community Centre
https://ca.apm.activecommunities.com/vancouver/Activity_Search
False Creek Community Centre
https://ca.apm.activecommunities.com/vancouver/Activity_Search
Form Physiotherapy
https://sportmedbc.com/content/sun-run-clinic-locations-dates
Kerrisdale Community Centre
http://www.kerrisdalecc.com/programs-register/
Kitsilano Community Centre
https://ca.apm.activecommunities.com/vancouver/Activity_Search
Hillcrest Community Centre
https://ca.apm.activecommunities.com/vancouver/Activity_Search
Renfrew Park Community Centre
https://ca.apm.activecommunities.com/vancouver/Activity_Search
River District Community Centre
https://register.vancouversunrun.com/#!/events/river-district-community-centre

Roundhouse Community Centre
https://ca.apm.activecommunities.com/vancouver/Activity_Search
Sitka Physiotherapy and Wellness
https://register.vancouversunrun.com/#!/events/sitka-physio-wellness-centre
Sunset Community Centre
https://ca.apm.activecommunities.com/vancouver/Activity_Search/sun-run-intraining-clinic-9-15am/132064
Trout Lake Community Centre
https://ca.apm.activecommunities.com/vancouver/Activity_Search
West Point Grey Community Centre
https://ca.apm.activecommunities.com/vancouver/Activity_Search
FRASER VALLEY
Aldergrove Kinsmen Community Centre
https://recexpress.tol.ca/Start/Start.asp
Heritage Park Community Gym, Mission
https://www.imission.ca/ereg/Activities/ActivitiesDetails.asp?ProcessWait=N&aid=370
McLeod Athletic Park
https://recexpress.tol.ca/Activities/ActivitiesCourseDetails.asp?cid=320119
Pitt Meadows Family Recreation Centre
https://pittfitandfun.ca/COPM/public
Riverside Community Room, Fort Langley
https://recexpress.tol.ca/Start/Start.asp
W.C Blair Recreation Centre
https://recexpress.tol.ca/Start/Start.asp
INTERIOR
Kelowna – PacificSport Okanagan
645 Dodd Rd., Kelowna
http://www.kelowna.ca/recreation
Penticton Community Centre
325 Power St., Penticton
https://cityweb.penticton.ca/econnect/Start/Start.asp
GIBSON
PaceSetter Athletic
https://register.vancouversunrun.com/#!/events/pacesetter-athletic